---
What previous IT Centre learners say about us
Our oldest learner signed up for their course at the grand age of 93 and we've even had somone aged 97 attend one of our free taster sessions! We also work with local businesses and organisations, from one-man-bands to some of the larger employers in our area. Since we first opened our doors in 1996, there have been thousands of learners that have enrolled on courses with us and we'd like to share some of their stories with you.

"My ECDL has really helped me out at work and at home."
Sonja McCaughran from Newton Stewart
Sonja McCaughran first came to The IT Centre in 2013 so that she could improve her IT skills. She decided that the best way to help advance her skills was through an ECDL which is a recognised qualification in computing. She felt this would help her in her work and home life.
Sonja has completed 5 out of the 7 modules and will soon complete the full ECDL.
"I have learned several ways of organising my own documents for my job as a self-employed childminder and learning new skills within the ECDL course, which has included word processing, spreadsheets and databases.
"I have learned how to keep records of my clients in their own files and store them securely with back-ups."

---
"I never thought I'd be able to do it, now it's simple."
Heather from Castle Douglas
Heather came to The IT Centre as part a project which helps unpaid carers learn how to use computers. Heather came with her laptop which she had never turned on before and wanted to know how to work it. Quickly, Heather was able to grasp typing and the basic concept of her laptop and from there, began to expand her knowledge.
Heather is aged 67 and and has lived in Castle Douglas since 2001. She had a total of 10 weeks at The IT Centre, learning how to use her laptop, which she has greatly enjoyed.

A few years ago, Heather had a stroke which meant that she was unable to leave the house as often or travel large distances. Because of this, shopping became a difficulty, therefore she began to learn how to shop online.
In a few short weeks she was easily able to buy online which made life easier as it did not require long and tiresome journeys.
Heather has family in Bournemouth who, because of the distance and her disability, she is unable to see or talk to as often as she would have liked.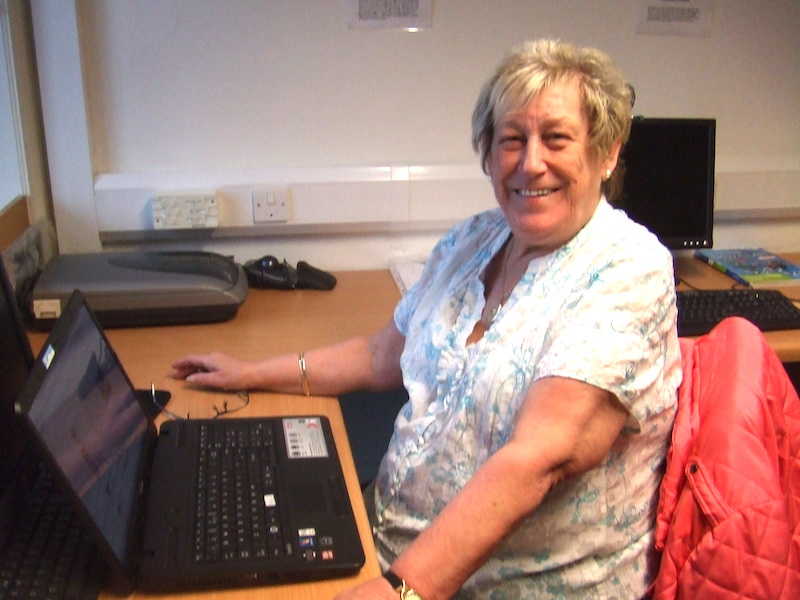 Because of this, she is going on to learn how to email people and she also wishes to set up her own skype so that she can talk to them, face to face, without having to be anywhere near them.
"Everything takes so much energy when I struggle to walk more than a few feet; now that I am able to shop and contact people online whenever I wish, things are so much easier and less stressful."
---
"All computing takes is practice and the willingness to learn!"
Ian Goodfellow from Kirkcudbright
Ian Goodfellow first decided to come to The IT Centre in early 2014 when he decided that he finally wanted to learn how to use his laptop which he had owned for a few years, but never known how to use.
Although he is 68 years old, he has his own gardening business. Ian is willing to learn new things and is no stranger to hard work.
Since coming to The IT Centre, Ian has become more confident in using his emails which he uses every few days; he has also learned how to shop online and can now book flights.
This is very helpful as it means he can also print off his boarding passes for free instead of having to pay £50 for them at the airport. He has also discovered that he can play solitaire on his laptop which he says he can spend hours doing when he has the time.
Ian has now bought a new laptop which is much faster than his old one and there is no stopping him now.

---
"I have really enjoyed myself and I appreciate the amount of patience that has been shown to me."
Blanche from Dalbeattie
"I have really enjoyed myself and I appreciate the amount of patience that has been shown towards myself, because as an elderly person, one tends to take longer to deal with modern equipment."
Blanche has recently bought herself a new iPad Air which she is now learning how to use at The IT Centre. She is making good progress and in no time, she will be unstoppable. One of her main uses is to help contact members of her family that don't live in the general area. Blanche recenty turned 90 years old and is currently our oldest member. Blanche proves that, no matter your age, you can always learn something new.
"I started coming to the class having bought a laptop; being an older person, I found this quite difficult to master so I thought that an iPad would be easier.

"With the aid of the iPad, I am able to keep in touch with my many friends in different parts of the world. All the staff at The IT Centre have been more than helpful and I now need their help to get onto the internet."

---
"Working at home means I can study when I have a chance instead of at a set time."
Vicky Squires from Borgue
Vickey Squires has been doing a Study@Home ECDL.
Vicky has a good understanding of Microsoft, but wishes to expand her knowledge and remind herself of some of the things that the software can do.
"Working towards my ECDL is helping me refresh my computer skills and regain my confidence within IT. The staff at The IT Centre are very supportive and encouraging and are always happy to help."
---
"The pupils became the teachers."
Springholm Primary School
"Springholm Primary School set up a cross-generational computer club in school in conjunction with The IT Centre, supported by innovation funding from the Determined to Succeed team from Dumfries and Galloway Council. The main aims of the daytime club were to develop pupils as confident individuals and leaders of learning and to promote lifelong learning skills."
"For the first few weeks, pupils were trained how to download digital images and then, to manipulate them with software."
"Following this initial training, we invited parents, grandparents and members of the local community to come to the club on a weekly basis, where the pupils became the teachers."
"Following the success of this fun club, we plan to run the club ourselves later in this session to build on what we have learned from Chris at The IT Centre.

---
"We found the IT Centre to be extremely helpful."
Austins Solicitors
After upgrading their IT equipment, infrastructure and, subsequently, the version of Microsoft Office being used across the firm, Austins approached The IT Centre with a view to familiarising staff with the new look and operation of Windows Office.
Staff attended The IT Centre in small groups for training on Word, Excel and Windows Explorer to ease the transition and ensure that any impact from the upgrade on their clients was minimal.
"We found The IT Centre to be extremely helpful in the setting up of training modules for our staff. We would recommend their services to other users without hesitation or reservation."
Graham Law - Partner
---
Call 01556 503167 now for further information or email us.